This memorial website was created in memory of our beloved daughter, Madison Sherina Renee Douglas, Maddie for short. Our princess was born in Monroe, Louisiana on May 13, 2006 and passed away on
May 13, 2006. She was with us in this world for 10 hours. We will miss her forever.


Maddie,
There are no words that truly express how much I miss you. I was blessed to have you growing inside of me for almost 6 months. I started loving you even before you were conceived. I feel your spirit with me everyday, and I long for the day you will welcome me home. But until that time comes, your Daddy and I will never stop loving you. I don't understand this path that God chose for us, and I probably never will. But I am so thankful for every second of your life.




Sherina, my sister and my friend, I love and miss you so much. You were the sister I wanted all my life. Please take care of my little girl. Hold her, and hug her, and love her for me until I see you both again.

-- Mama
5-13-08
Happy 2nd Angel Day, Sweetheart!


Mommy and Daddy had a nice day alone just enjoying your day together, and thinking of you. It was wonderful. I know you had a wonderful day in heaven that day, and every day. We love you!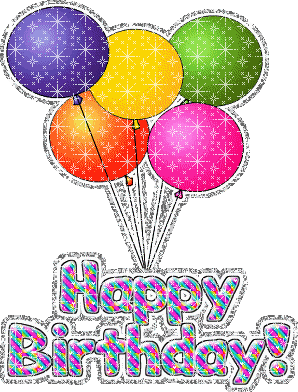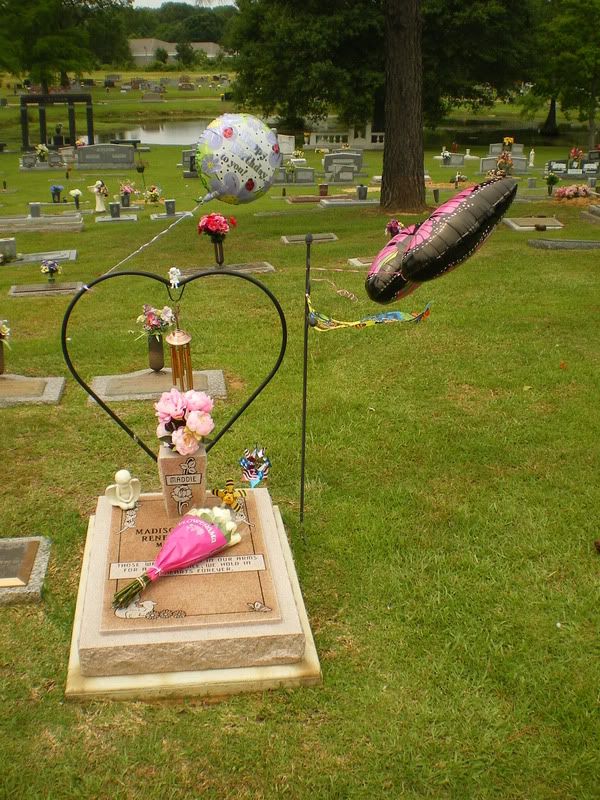 We released 24 pink balloons in memory of you, one for every month without you.

I hope you caught one!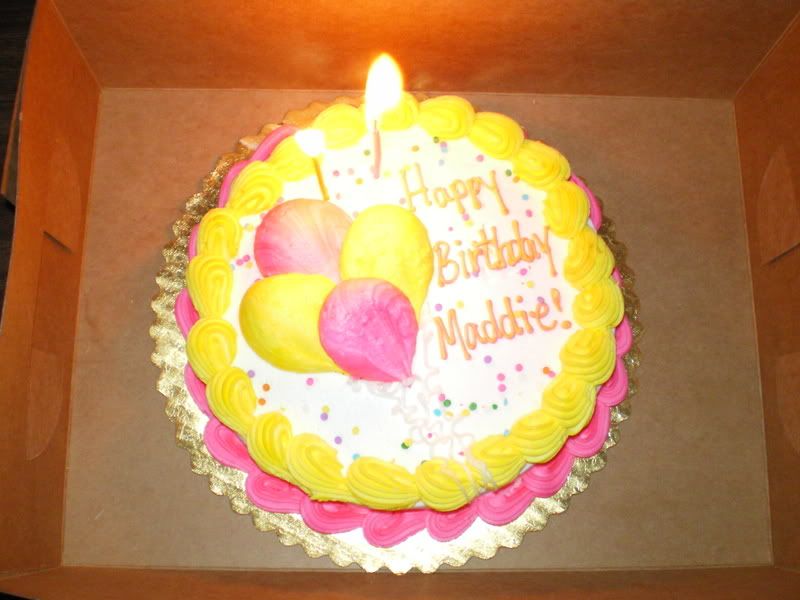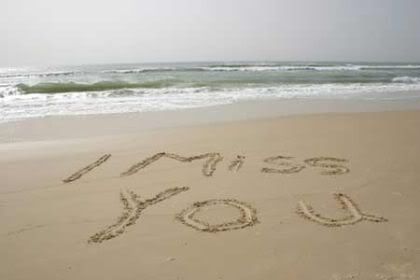 No light that was born in love can ever be extinguished.

"Our Chain is Broken"
We knew little that morning, that the angels were calling your name.

In life we loved you dearly, in death we do the same.
It broke our hearts to lose you, you did not go alone,
for part of us went with you, the day you were called home.
You left us peaceful memories, your love is still our guide,
And though we cannot see you, you are always at our side.
Our family chain is broken, and nothing seems the same,
But as we are called one by one, the chain will link again.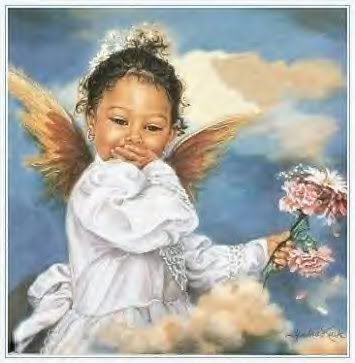 My Little Angel
I felt your presence there inside of me,
nestled soft and warm.
Sweet scent of baby's breath,
precious words left unadorned.
I saw your tiny heartbeat,
and then I knew that you were fine;
A perfect baby we created, one that would be mine.

Then that tragic day it came there was nothing I could do.
Only wait and hope for the precious life of you.

Yes in the beginning your daddy was afraid;
Only he would love you unconditional and never run away.
He loved you more this I do know,
as he cried for you that day.
When the doctor said that you were gone,
daddy wanted you to stay.

He would have held you close to him,
and to see your perfect form.
A gift of daddy's love, would have kept you safe and warm.
Only now you are an angel over me, beautiful and bare.
My heart would hurt if you cried for me
and mommy was not there.

Still we are together in my heart and memories.
You are still a part of my memory.
Rest gentle now 'sweet baby' there
is no pain you are never alone.

I know you are with the guiding angels in you peaceful home.
I will come with you someday only now is not my time.
Then we will be together again, again you will be mine.
(c) 1998 Rhonda All Rights Reserved


Brahms' Lullaby

Lullaby and good night, with roses bedight.
With lilies o'er spread is baby's wee bed.
Lay thee down now and rest, may thy slumber be blessed.
Lay thee down now and rest, may thy slumber be blessed
Lullaby and good night, thy mother's delight
Bright angels beside my darling abide
They will guard thee at rest; thou shalt wake on my breast
They will guard thee at rest; thou shalt wake on my breast
I did not die young,
I lived the span of my life within your body,
And within your love.
If you would honour me,
Then speak my name and number me amongst your family.
If you would honour me,
Then strive to live in love,
For in that love I live.
Never ever doubt that we will meet again,
And until that day I will grow in Heaven and wait for you.

Do not stand at my grave and weep,
I am not there, I do not sleep.

I am a thousand winds that blow,
I am the softly falling snow,
I am the gentle showers of rain,
I am the fields of ripening grain.

I am in the morning hush,
I am in the graceful rush
Of beautiful birds in circling flight.
I am the starshine of the night.

I am in the flowers that bloom,
I am in a quiet room,
I am in the birds that sing,
I am in each lovely thing.

Do not stand at my grave and cry,
I am not there, I do not die.
Mary Elizabeth Frye
Sometimes Love can last a Moment
Sometimes Love can last a Lifetime
Sometimes a Moment is a Lifetime
How very softly you tip toed into my world, almost silently.
Only a moment you stayed,
but what an impact your footprints have left on my heart.

Although I never gazed into your eyes, don't let them say I never was.
An angel never dies.

These are my footprints,
so perfect and so small.
These tiny footprints
never touched the ground at all.
Not one tiny footprint,
for now I have wings.
These tiny footprints were meant
for other things.
You will hear my tiny footprints,
in the patter of the rain.
Gentle drops like angel's tears,
of joy and not from pain.
You will see my tiny footprints,
in each butterflies' lazy dance.
I'll let you know I'm with you,
if you just give me the chance.
You will see my tiny footprints,
in the rustle of the leaves.
I will whisper names into the wind,
and call each one that grieves.
Most of all, these tiny footprints,
are found on Mommy and Daddy's hearts.
'Cause even though I'm gone now,
We'll never truly part.

August 2007



This is the quilt square that Mama and Daddy made in your memory. This square will be put with about 40 other squares made by other mommies, daddies, and family members who have lost loved ones to Preeclampsia just like we lost you. This quilt will be auctioned off at the national funraising convention in October. Hopefully this will make a lot of money to go towards finding a cure for this disease so that no one else has to say goodbye to their baby as soon as they say hello.



I will forever be






2-5-08






"They say that time in heaven is compared to 'the blink of an eye' for us on this earth. Sometimes it helps me to think of my child running ahead of me through a beautiful field of wildflowers and butterflies; so happy and completely caught up in what she is doing that when she looks behind her, I'll already be there."



-Author unknown


"Nobody Knows"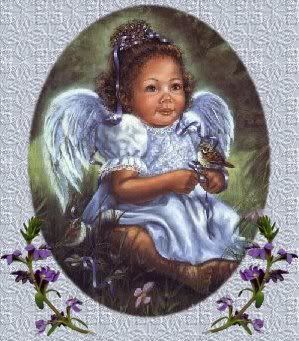 Nobody knows it's empty
This smile that I wear
The real one is left in the past
Because you have left me there.
Nobody knows I'm crying
They won't even see my tears
When they think that I am laughing
I'm still wishing you were here.
Nobody knows I'm lying
When I say I'm moving on
They think that I've accepted it
But I can't believe you're gone.
Nobody knows it's different
They think I'm just the same
But still I weaken at the knees
When someone says your name.
Nobody knows it's painful
They think that I am strong
They say that this won't kill me
But I wonder if they're wrong.
Nobody knows I'm praying
That you will change your mind
They think that I had let you go
When you left me behind.
Nobody knows I miss you
They think I feel set free
But I feel like I'm bound with chains
Trapped in this misery.
Nobody knows I want you
They think that I'm alright
But I'm still dancing with you
When I'm dreaming in the night.
Nobody knows I need you
They say I can do it on my own
But they don't know I'm crying
When I am all alone.

-- Author Unknown

"Before you were conceived, I wanted you. Before you were born, I loved you. Before you were a minute old, I would have died for you. This is the miracle of life. "
-Maureen Hawkins